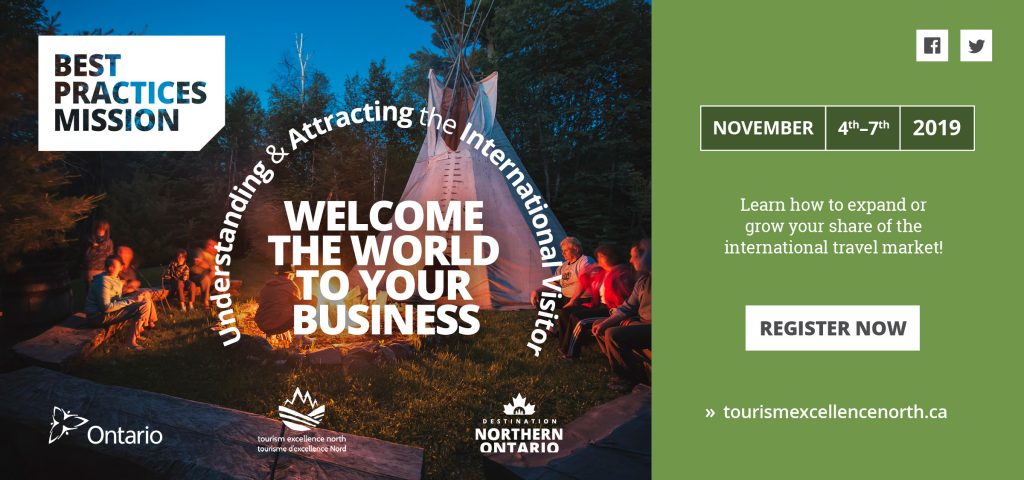 Day 1 (Nov. 4): The General Manager and Director of Sales of the Hilton Toronto host us for breakfast and share their stories on some of the niche markets and international partnerships they have created at the hotel. After breakfast we will spend a little time looking at the various channels within the international market and how to tap into these various opportunities. Next, the group travels to the Kawarthas visiting the Canadian Canoe Museum and then off to Elmhirst's Resort. One of Elmhirst's Resort experiences has been recognized as a Canadian Signature Experience. Our hosts at Elmhirst's will share their stories on working with the international market and how it has shifted over the years. Local tourism representatives will be joining us for dinner.
Day 2 (Nov. 5): The morning starts travelling back to Toronto for lunch and presentation by Michael O'Connor, General Manager and Vice-President of Quinn's Steakhouse & Irish Bar. Hear how connecting to the international visitor market helped save a restaurant during an unexpected downturn. Then we are off to meet with Jonview Canada, a leading Canadian Receptive Tour operator to learn more on how to partner with a receptive tour operator. A little free time that afternoon will be followed by a group dinner.
Day 3 (Nov. 6): Our day starts at Porter Airlines for a group discussion with some members of the Porter Escapes team. We will hear about Porter Airline's growth and about the partnership opportunities for business in Northern Ontario. We will then head to the St. Lawrence Market for a tour, presentation and lunch and learn how a local tour operator creates experiences to attract the international traveller. Next we are off to Destination Ontario's offices to learn about the province's international initiatives. You will have a chance to meet the global sellers and learn about ways in which you can partner and showcase your product offering. Dinner that evening will be at Donatello Restaurant, a longstanding favourite in Toronto for locals and visitors to the city.
Day 4 (Nov. 7): We start the day with breakfast and will have a chance to meet with the General Manager of the Chelsea Toronto and members of the team. The Chelsea is Canada's largest hotel and a big player in the international market. We then make our way to Markham to meet with a number of ADS (Approved Destination Status) Chinese Receptive Tour Operators who are interested in learning more about what their travellers can experience in Northern Ontario.
Presentations on Northern Ontario and the Chinese market will be followed by a dim sum lunch. After lunch each BPM participant will have the opportunity to engage in a one-on-one meeting with each Receptive Tour Operator in attendance. The buyers will be receiving advance information on each Northern Ontario participant, and you will receive an advance bio on each Chinese buyer. Travel back to Toronto for departure.