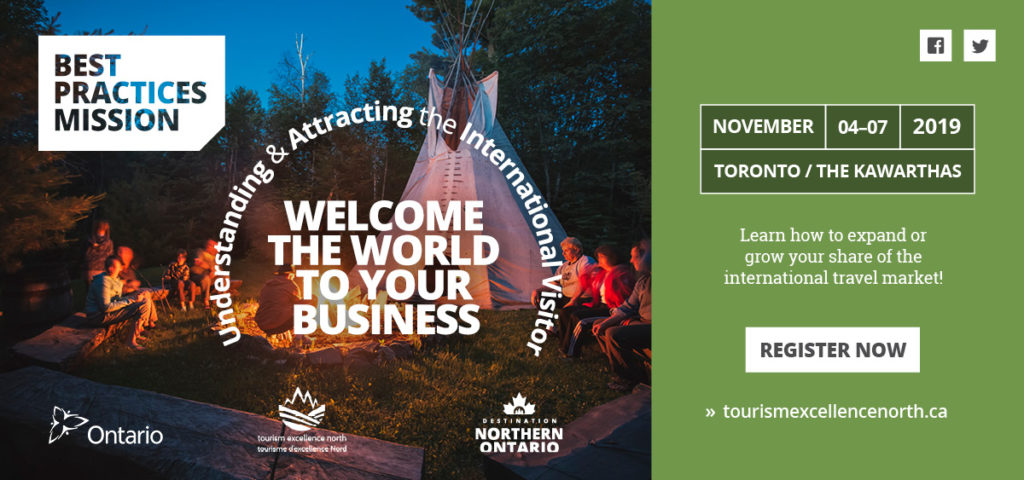 Join Tourism Excellence North on a four-day Best Practices Mission, departing November 4th, to visit and be inspired by Ontario tourism businesses that have successfully attracted international visitors!
You will get advice from experts who sell Ontario to the world and learn what steps to take to get your business ready. You will also have a chance to meet with a number of tour operators and receptive tour operators looking to package and buy Northern Ontario tourism products and experiences.
Where: Toronto and the Kawarthas
When: November 4 – 7, 2019
Who Should Attend? The International Visitors Best Practices Mission is designed specifically for decision-makers and managers from tourism operations across Northern Ontario wishing to expand or grow their share of the international travel market.
Cost: $750, due in full by October 11, 2019. This cost will cover all on-site travel, accommodation, set meals and activity fees for 3 nights and 4 days. Additional discretionary spending will be the responsibility of participants.
You are responsible for travel arrangements and related costs to/from Toronto, Ontario.
Participants must apply and have their applications approved. Space is limited to 12 participants.
Specific Learning Themes Include:
Understanding the travel trade distribution and pricing
Contracting with travel partners
Diversifying your market mix to include the international market through product and service enhancements and experience design
Marketing and selling to the international traveller direct or through online channels
Selling internationally in a "shared economy"
Who your partners are in the international space
Networking with fellow Northern Ontario tourism operators
Learning from and networking with Receptive Tour Operators
Who is Leading the Mission? Eva Gutsche, STEM Consulting
Eva has extensive experience working with the international market from a variety of perspectives. As a tourism operator Eva worked globally attending a variety of international trade shows, trade missions and partnered sales trips with provincial tourism offices and airlines. Most recently her focus has been working with Destination Canada with a primary focus on the Canadian Signature Experience program.
Why visit Toronto and the Kawarthas to learn how to attract international visitors to Northern Ontario? On this trip we will visit several tourism operators in Toronto and the Kawarthas who have been extremely successful in developing their product and attracting/serving international travellers. You will see, experience and talk, peer-to-peer, with them about their successes and challenges. Lessons learned will be easily transferrable to your tourism business.
In addition, the Greater Toronto Area is the hub of Canada's receptive tour operators – with companies like Jonview Canada and Porter Escapes topping the list. Meeting representatives from Jonview, Porter Escapes and Chinese Receptive Tour Operators face-to-face is an important opportunity in introducing your tourism product or potential tourism product to an international market.
>>Click here to read more trip highlights!
Have questions? Email or call Karen Peacock, Senior Coordinator, Training, at k.peacock@destinationnorthernontario.ca or 705-523-2228.
2018 International BPM Photo Gallery
Porter Airlines to meet with Porter Escapes to discuss partnership, packaging and sales!

Hearing how Mike O'Connor of Quinn's Steakhouse & Irish Bar elevated his business through international marketing tactics and proactive relationship building.

Started off the day right with a Canadian Signature Experience up high at @elmhirstsresort over Rice Lake!

@elmhirstsresort over Rice Lake!

@elmhirstsresort

A stroll on one of our favourite places – the #TransCanadaTrail

Hidden wine cellar and amazing hosts! @elmhirstsresort

Exceptional tourism product for almost 40 years!

@elmhirstsresort

@thefoodiesonfoot culinary experience walking tour of downtown Toronto.

@ravinevineyard … WOW! What an experience…

Niagara region is one of the top destinations in Ontario for international travel.

An authentic Ontario experience from start to finish!

@ Ravine Vineyard Estate Winery

@PellerEstates