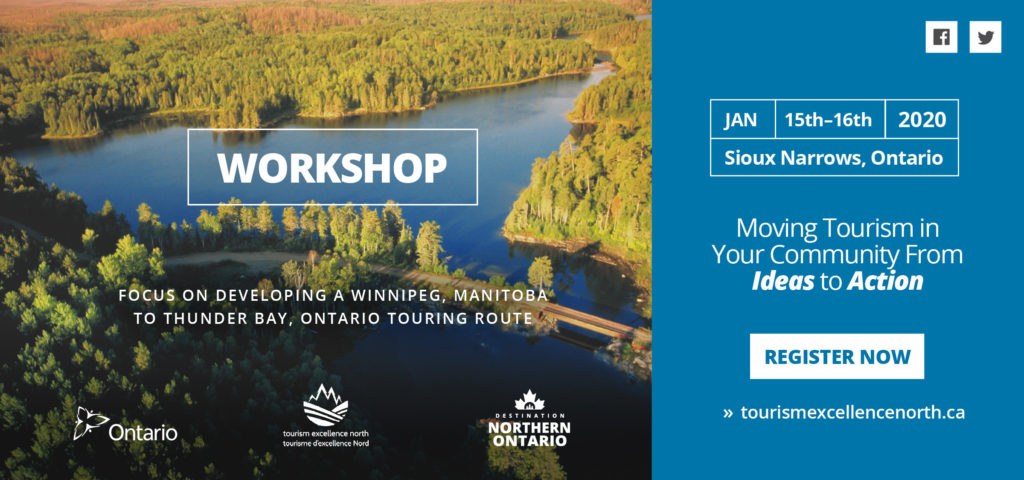 This workshop is now sold out. For questions, please contact TEN at TEN@destinationnorthernontario.ca or 705-523-2228
What is the workshop?
This workshop is designed for community partners along the proposed touring route from Winnipeg, Manitoba to Thunder Bay, Northern Ontario to:
Learn more about the proposed touring route
Learn how to get involved in the route development
Identify key players involved in the delivery of a touring route
Learn the fundamentals of experiential travel
Learn how to improve and enhance the visitor experience along the route
Learn how to best position your community along the touring route to capitalize on available assets
Identify priority areas for development
Identify your community's assets and gaps
Create a detailed action plan to develop and implement your touring route goals
Build the network of touring route partners
Why you should attend:
Your community is located along the proposed touring route
You want to be actively involved with the development of the Winnipeg-Thunder Bay touring route
You want to take your community's touring visitor experience to the next level
You want to increase the number of touring route visitors and their length of stay in your community
Your community or destination has a high-level plan in place as part of the touring route but needs a detailed action or implementation plan to move forward
Who should attend?
In order to facilitate productive discussion and on-site planning, we encourage more than one representative from each community/stakeholder group to attend. Groups of 3-4 work best. These participants can include:
Community stakeholders
Municipal and/or City senior staff
Tourism and/or Economic Development officers
Touring route managers
Destination development managers
Community champions
Tourism professionals
Funders
Tourism business owners along or near a route
Operators engaged in community/destination development
Need help identifying your co-community representatives? We can help! Contact Tourism Excellence North at 705-523-2228 or TEN@destinationnorthernontario.ca for any assistance.
More workshop learning objectives!
Gain an understanding of the traveller decision making process
Understand and identify the players involved in the successful delivery of experiential tourism
Understand the importance of providing relevant, captivating, saleable online content to potential travellers
Establish key performance indicators
Identify priority areas for product and service development
Create an action plan to develop and implement your objectives
Where is it?
Sioux Narrows, Ontario
Training Venue: Sioux Narrows Community Centre (5685 Hwy 71 Sioux Narrows)
When is it?
January 15th – 16th, 2020
Money Matters:
THE WORKSHOP, INCLUDING ALL TRAINING MATERIALS, IS OFFERED AT THE LOW COST OF $100 per person!
Participants are responsible for booking their own travel arrangements and accommodations.
>>Click here to apply!
Questions? Send TEN an email to TEN@destinationnorthernontario.ca