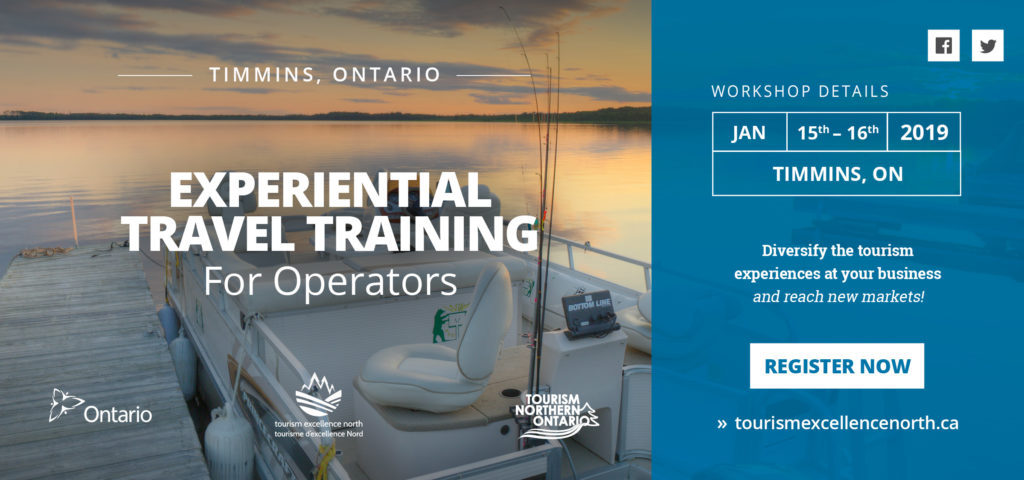 Why should you attend? Experiential tourism offers can help you reach new markets and increase your bottom line.
Perhaps you are looking to draw families, international visitors or newcomers to Canada to your business? What experiences can you offer that are specific to them? This workshop will address these topics and more!
What is this training workshop? An interactive 2-day workshop for 12 tourism businesses which will provide the tools and insights you need to design and deliver profitable tourism experiences. This workshop will take you through 'experiential travel 101' and guide you through creating and delivering an experiential travel tourism offer that reflects your unique story, cuisine, and culture in Northern Ontario.
Who should attend? Any private sector tourism business, not-for-profit operation, or public sector organization interested in and ready to invest in the design and delivery of experiential offers.
What will I learn?
• The value experiential travel can add to your operation
• The difference between a tourism product and a tourism experience
• How to get started on an experience for your operation, with the intent of enhancing existing product to better meet the needs of visitors and generate higher profits
• How other businesses have embraced and benefitted from evolving their product into enhanced tourism experiences
Where is it?
• Timmins, Ontario
• Training Venue: Timmins Museum
When is it? Tuesday, January 15 to Wednesday, January 16, 2019
Money Matters:
• THE COURSE, INCLUDING ALL TRAINING MATERIALS, PROGRAMMING AND SELECT MEALS IS AT THE LOW COST OF $100.
Questions? Send TEN an email at info@tourismexcellencenorth.ca