When:
October 10, 2018 – October 12, 2018
all-day
2018-10-10T00:00:00-04:00
2018-10-13T00:00:00-04:00
Contact:
Tourism Excellence North
705-523-2228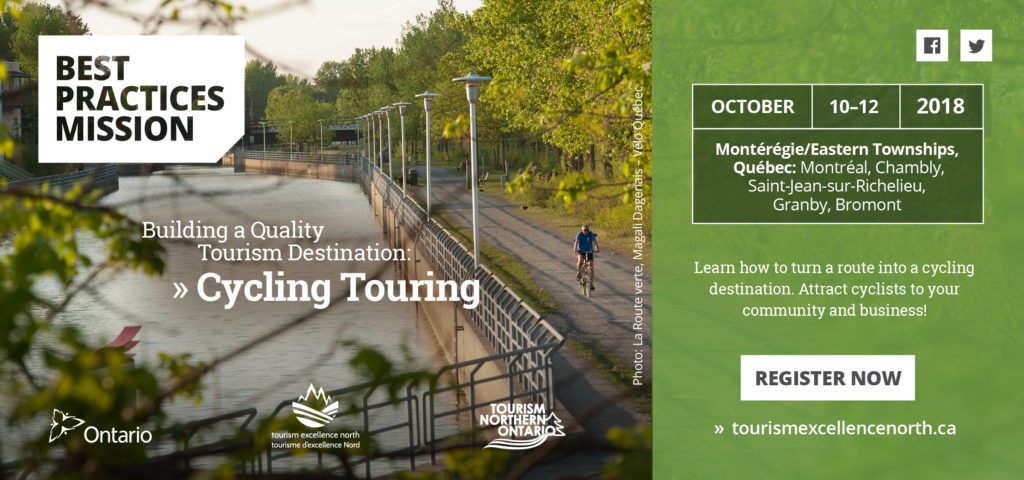 What is the Building a Quality Tourism Destination: Cycling Touring Best Practices Mission?
Tourism Excellence North's (TEN) Best Practices Mission (BPM) connects you directly with communities, operators and organizations of all sizes who are leaders in attracting and serving cycling visitors. You will see, experience and talk, peer-to-peer, about their successes and challenges. The BPM will showcase Québec's Route verte, a successful example of a cycling touring route that attracts both domestic and international tourists/travellers. In 2015, annual tourism spending in Québec by cyclists generated $700 million annually, an equivalent of 6,800 jobs. In the same year, 680,000 overnight stays were generated from 228,000 Québec tourists with a primary activity of cycling.
Who Should Attend? The Cycling Touring Best Practices Mission is for decision-makers and managers from tourism operations and communities across Northern Ontario wishing to expand or grow the cycling touring market.
This includes:
• Community Leaders;
• Cycling Organizations;
• Cycling Trail Development Organizations;
• Economic Development Organizations;
• Municipal Staff (e.g. Economic Development, Tourism, Parks & Recreation, Senior Management, Planning, Transportation, etc.);
• Elected Officials;
• Regional Destination Management Organizations;
• Tourism Operations Management; and
• Businesses along/nearby cycling routes who are servicing cycling market.
When: Wednesday, October 10 to early afternoon Friday, October 12, 2018.
Where? Montérégie/Eastern Townships, Québec: Montreal, Chambly, Saint-Jean-sur-Richelieu, Granby, Bromont. This 3-day trip will start and end in Montreal, Québec.
Why Route verte, Québec?
The province of Québec is a leader within cycle tourism and has developed Route verte, the longest bike path in North America. This robust network stretches over 5,000 km throughout Québec drawing people from all over the world. Over 500 tourism establishments are certified as Bienvenue cyclistes! and have capitalized on the trail infrastructure by offering bike-friendly amenities, resources, products and attractions that appeal to cycling enthusiasts.
Specific learning themes include:
– Understand the needs and future trends within the cycling touring market.
– Recognize what makes a community/region a successful destination including on-route infrastructure, communities and operators embracing and serving cyclists and experiences.
– Identify strategies to overcome potential challenges when establishing a cycling destination.
– Learn techniques and strategies to turn a route into a cycling destination.
– Develop strong partnerships with businesses, organizations and key stakeholders to establish a strong cycling industry within a region.
– Measure the economic impact and benefits within the cycling industry.
– Foster relationships with businesses and organizations to package and theme experiences.
– Implement strategies to identify, understand and attract touring cycling markets.
– Understand how to connect with and capitalize on cross-border opportunities.
– Garner new ideas to inspire and motivate participants to take action.
What will happen on this mission? You will:
• Begin the learning in Montreal Québec, with presentations from Vélo Québec and Transat Chair in Tourism. With significant involvement in the tourism industry, both of these organizations have cultivated strong relationships with key stakeholders and played a lead role in the development of a successful tourism destination. Learn about the needs of the cycle tourism market, the economic impact it has on the region and Route verte's opportunities and the challenges within the industry/region.
• Participate in a variety of interactive activities throughout Montérégie and Eastern Townships including on-site tourism experiences designed to appeal to cycle visitors.
• Connect with tourism industry leaders who have successfully developed and marketed cycle-based travel experiences internationally.
• Network, engage and develop long-lasting relationships with Northern Ontario colleagues.
• Take home actionable new tourism product development ideas that are effective and attainable to implement.
Who is Leading the Mission?
Karen Gibbons, BBA, Ec.D
Karen Jones Consulting Inc.
Karen is a business strategist with a strong knowledge and passion about the tourism sector. With over 16 years of economic development experience, Karen has worked with a variety of municipalities and businesses to implement strategies to attract new investment, increase business confidence and establish successful destinations. As your TEN Specialist, Karen will apply the fundamental principles of economic development to showcase how you can build a successful destination for the cycling touring market.
Cost: Participant Trip cost is $500 / individual. Participants must apply and have their applications approved.
This cost will cover all travel, accommodation, set meals and activity fees during the three-day trip. Additional discretionary spending will be the responsibility of participants. You are responsible for travel arrangements and related costs to/from Montreal, Québec.
>>Space is limited, so apply now!
Deadline for Application: August 27, 2018
Participant Trip fee payment ($500) due by: September 10, 2018